EssentialEdge is a personal guide on the daily journey towards your most meaningful goals.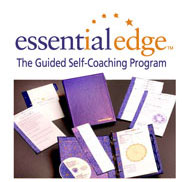 Everyday we make numerous decisions, each one either moving us towards or away from what we really want. Many of us are not even truly clear about what our most important goals are. We keep them in the hazy periphery instead of reaching for them. Goals left over there remain over there... and with them sit your motivation, enthusiasm and vitality.
This program utilizes the inherent power of expressing ourselves in writing, engaging in proactive self-discovery and creating a means of accountability. EssentialEdge provides strategic planning that is a highly personal, empowering experience that brings you greater insight, balance and results.
Step by step, EssentialEdge will help you achieve your intended outcome. You begin your 3-month journey by identifying your big picture goals through guided exercises. Then, each month, you determine specific objectives, create an action plan and engage in daily, structured journaling. These Daily Inquiries are a direct and focused benchmark; you should be able to complete them in 5 – 10 minutes. The consistent, "there in black and white" nature of the journal builds a strong sense of clarity and commitment into the process.
"Incorporating the Essential Edge into my daily routine has been a life-changing and indispensable tool from a whole-life perspective. In both my corporate and personal life I am accomplishing what I have set out to accomplish in the time frame I wish to accomplish it."
– Sherry Hancock, Instructional Designer for Systems, Sheetz, Inc.
Each three-month packet of inserts includes:
Declare Your Intention


Begin each month honing your focus, clarifying your goals and putting together a related plan of action.
How Are You Showing Up


Everyday, spend 5 – 10 minutes considering the Daily Inquiry. Halfway through the month, you will assess How Are You Tracking.
Where Are You Now


At month's end, it's time to Pause For Reflection. Look at your successes, notice what might have gotten in the way, and orient yourself for the next month.
Additional Resources

For times when you may be stuck or confused, you can Expand Your Perspective to generate alternative ways of approaching a situation or issue. You may also explore Breaking Through Negative Self-Chatter to release the grip of "can't, shouldn't, no money, no time" types of thoughts.
Notes and Ideas

Here's a handy place to jot down spontaneous inspirations and insights for further consideration or action.
As you wrap up your coaching term, EssentialEdge will guide you in solidifying your successes and learning. It will also point the way forward toward greater successes and fulfillment.